Hybrid rye - often more economical than wheat
MyRye delivers comprehensive information on all aspects of rye production, whose potential is often underestimated, ranging from marketing & processing to economy and crop cultivation issues. As rainfall stays more frequently absent in spring/early summer and an increasingly smaller amount of nitrogen fertilisation is permitted hybrid rye shows its advantages compared to winter wheat and took the lead in many regions in the year 2018. Rye has also become indispensable in the crop rotation on the farm of Lars Meinecke from Barwedel in the district of Gifhorn.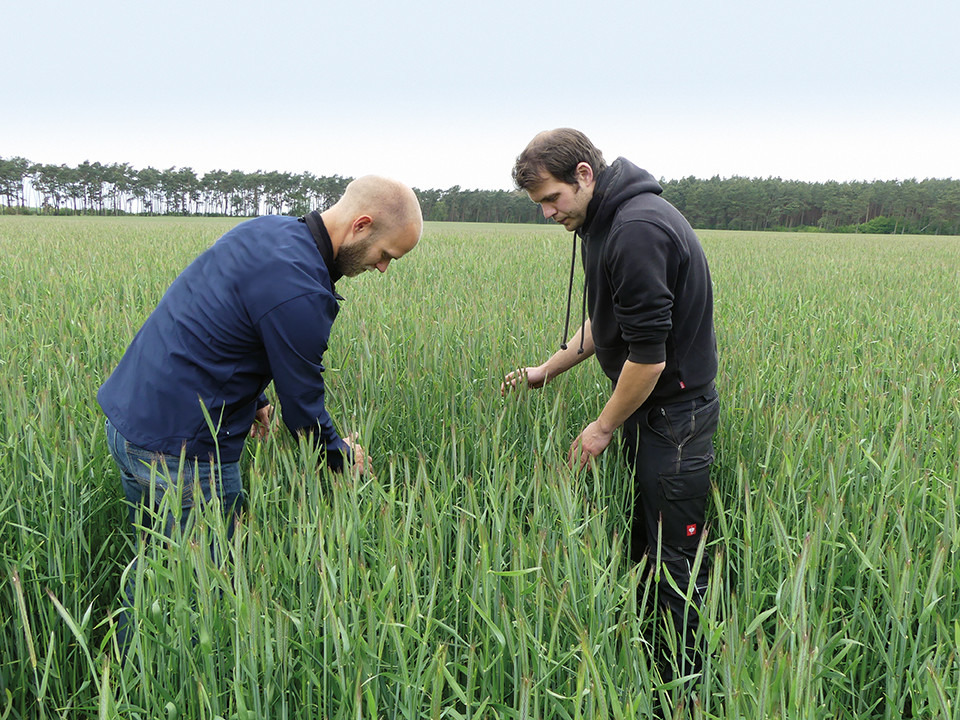 Lars Meinecke manages the farm Meinecke GbR together with his father. The farm has 300 ha of which 179 ha are used for arable farming. The remaining area is grassland for 50 suckler cows and their calves. Crops include sugar beet (32 ha), forage maize (23 ha), spring malting barley (9 ha), winter barley (17 ha), winter wheat (56 ha) and winter rye (37 ha) are grown as well as 5 ha of flower strips. It is a light soil (on average 25-30 soil points; German soil classification) with a long-term average annual rainfall of about 600 mm. Hybrid rye is part of the crop rotation together with forage maize, barley, sugar beet and winter wheat, on some fields alternating yearly with forage maize. Sowing is usually carried out as minimum tillage at the beginning to mid-October or if a cereal was the preceding crop with a drill combination after ploughing. In the dry autumn 2018 some fields were only drilled at the beginning of November.
Comparing crops shows several reasons in favour of hybrid rye
Farm details:
Meinecke GbR, Barwedel in the district Gifhorn
25 to 30 soil points (German soil quality rating)
Long-term average rainfall: 600 mm
Total farm size: 300 ha
Arable land: 179 ha
Sugar beet: 32 ha
Forage maize: 23 ha
Spring malting barley: 9 ha
Winter barley: 17 ha
Winter rye: 37 ha
Winter wheat: 56 ha
Field strips: 5 ha
Grassland: 50 ha
Suckler cow herd
From the oint of view of Lars Meinecke there are many reasons favouring rye:" On one hand there are agronomical characteristics like good standing power and high stable yields even on very weak sites. I consider those characteristics when choosing varieties and for example had good experiences with SU BENDIX. On the other hand its water efficiency and the current high market prices for rye compared to winter wheat are arguments for its cultivation. Additionally, straw is an important issue for our farm. The straw is partly sold or home-used. Straw has a very important function in the crop rotation in terms of keeping up organic matter contents on lighter soils, which is closely linked to the water absorption capacity of our soils."
In the year 2018 even rye could not do without irrigation
Spring drought is characteristic for the region and on farm over 90% of the fields can be irrigated. It has to be highlighted that 40% of the arable area is within the wastewater irrigation area of the Wolfsburger Entwässerungsbetriebe (WEB). Apart from the wastewater association Brunswick it is the last wastewater irrigation area in Germany. Wastewater irrigation means to reutilize used water which helps to save groundwater as well as drinking water. In order to use it as efficient as possible plans regulate exactly on which fields how much water can be applied. In the year 2017 for every year of the coming decade, and therefore for the whole decade, a maximum amount was determined. In "extreme" years like the year 2018 the need is bigger than the "allowed" amount. Meinecke explains:" In the year 2018 we have already clearly exceeded the newly determined amount. This should not happen again! We harvest on a long-term average 6 t/ha hybrid rye and 7 t/ha winter wheat. Thanks to irrigation even in the extreme year 2018 4.7 t/ha hybrid rye and 6.5 t/ha could be harvested. However, we could not irrigate about 30 % of our hybrid rye area which obviously decreased our average yield.
But was the expense of irrigation worthwhile? And are there differences between hybrid rye and winter wheat? Meinecke calculates: "The expense to secure the yields was enormous. On average we had to irrigate hybrid rye twice and winter wheat even four to five times with 25 mm/m² each time! The cost per go are about 60 to 70 €/ha. Like that winter wheat has to yield on average 1 t/ha more in order to be more economic than hybrid rye. Especially, considering the current market situation cultivating hybrid rye was very profitable for me as variable costs like irrigation, fertilisation and crop protection are clearly below that of winter wheat." Meinecke assumes that if wastewater irrigation was discontinued like in other regions winter wheat cultivation would not be possible anymore. Winter wheat production area would be reduced in favour of hybrid rye production area.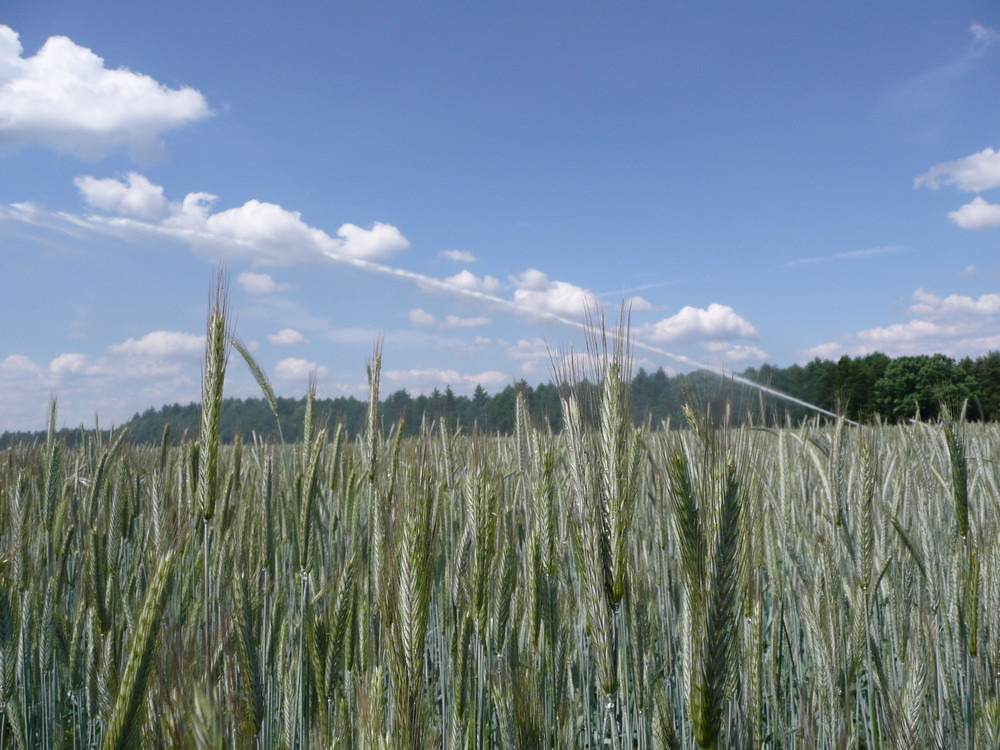 Another strong point of rye is its usage of nitrogen fertilisation
Continuingly stricter regulations in regard to fertilisation could also contribute to an increasing growing area of hybrid rye. "We fertilise hybrid rye with 130 kgN/ha including Nmin. In the balance this results into a nitrogen surplus of 20 kg/ha for the crop at 11 % crude protein. Winter wheat is twice as high at 13 % crude protein. Therefore, it is no problem for us to comply with the CONTROL value of 50 kgN/ha. However, if spring drought becomes more common it could be more difficult to get the fertilizer to the plant and transferred into yield. Also in this case I see a clear advantage for the hybrid rye compared to winter wheat. The total nitrogen application can be carried out until mid to end February so that the fertiliser is dissolved before the drought starts.
Late N applications in winter wheat are already challenging. "I assume that in future we cannot achieve higher yields by applying late N on our fields," predicts Meinecke. This would make winter wheat even more uninteresting for those sites.